Froli Sleep System is a Mattress Game Changer
Let's talk about getting a good night's sleep so we all feel rested in the morning… yes, even while RVing!
I purchased and installed the Froli Sleep System about 3 years ago and this is absolutely my favorite RV upgrade I have made. I originally installed this sleep system because I was worried about mold getting underneath my RV mattress.
But, I wasn't expecting how the springs on the Froli Sleep System made my RV bed more comfortable to sleep on. I say… it converted my RV mattress into a 5-star like hotel bed!
One of the cool Froli System features is that comprises of modular parts that work together. This means it will fit under virtually any size mattress including oddly shaped bed configurations. This system is ideal for RVs, boats, and of course your bed at home.
So, I want to share my Froli Sleep System review with you so you can decide if the Froli Sleep System is right for you.
Why I Installed the Froli Sleep System
I was concerned about mold.
It wasn't too long after I bought my Little Guy Max trailer that I noticed the quilt and sheets on my bed, especially the areas on the bedding closest to the walls would sometimes get damp. I later learned this happens due to condensation.
But because my RV mattress sat directly on a hardwood surface and up against the RV walls on three sides there wasn't any airflow that could get underneath it so when it got wet it would stay wet. And as we all know, damp dark spaces are ideal for mold to grow. This made me nervous. I was concerned about health issues and the cost of replacing my mattress if mold did start to grow there.
After doing some research I discovered the Froli Sleep System.
Watch this video clip to see how the Froli Sleep System eliminates mold and mildew under your mattress: https://youtube.com/clip/Ugkx42LWpHKWhh2HU2u1BoBHeF4WojjvmIGR
After installing the Froli Sleep System there is now about 1 ¾ inches of airflow space between my mattress and the hardwood surface. The Froli System eliminated all my fears of mold and mildew from occurring under my mattress, which was a big deal for me.
How the Froli Sleep System Made Me Sleep Better
What I did not expect was how much more comfortable this system was to sleep on.
Although my RV mattress is probably better than most it still was uncomfortable to sleep on because it sat directly on a hard surface.
After installing the Froli bed system there was a noticeable difference. The springs added a cushion of support which made sleeping on it more comfortable.
So, let's look closer at the Froli System. I purchased the Froli Star System.
What is the Froli Sleep System?
The Froli Sleep System is a modular spring system that is placed underneath a mattress. It stops moisture from getting underneath the bed mattress by elevating it and allowing airflow.
This product is made in Germany and distributed in North America by Nickle Atlantic, LLC.
The Froli Bed System is a spring system made up of three parts: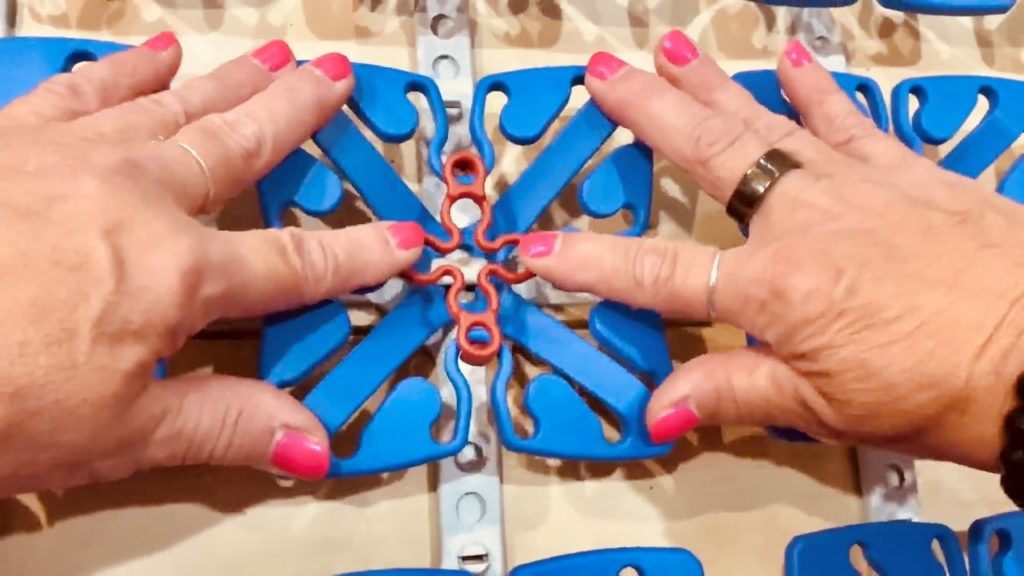 Base elements (grey part) – The base elements are the part of the system that sits directly on the surface. And you have three setting options. You can place the base elements further away for a softer bed or in the middle or close together for a firmer bed.
Spring elements (blue) – The spring elements are individual suspension elements that add support. As the springs flex they adapt to your body weight and movements.
Tension clips – (optional) – When inserting the tension clips to the top of the spring element more support is provided. I placed tension clips in the 5th, 6th, and 7th row around my shoulder area.
Is the Froli Sleep System Easy to Install?
The Froli Sleep System is easy to install. It comes with three different elements and a tool to snap the base element together. The tension clips are optional but I found using them added extra support to my mattress.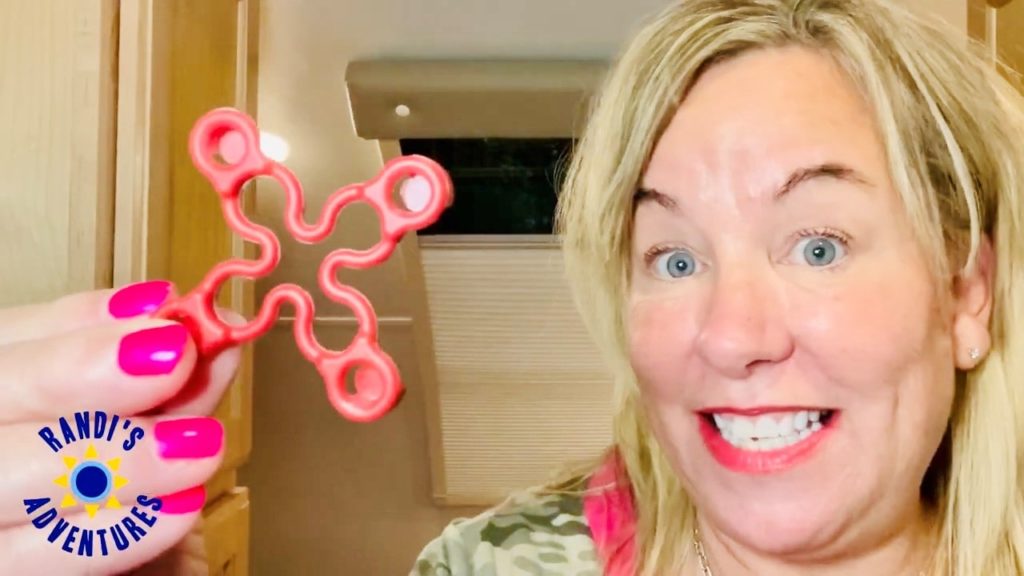 How Do I Install the Froli Sleep System?
These are the 3 steps necessary and one optional step to installing the Froli Sleep System.
Watch Step #1
This is how you install the Froli System base elements
https://youtube.com/clip/Ugkx-0Fx54qKm-uSKI3UnCYqnyuBQ_QVw4b0
Watch Step #2
This is how you interlock the Froli Sleep System base pieces
https://youtube.com/clip/Ugkxn50wBk_-HQ0vhSwvlOq6KtW3PVZOE9Ik
Watch Step #3
This is how you to install the spring elements unto the Froli Sleep System base elements
https://youtube.com/clip/UgkxdnANQJBImHnUP4mer0EAu5F0u4jZHoEs
Watch Step #4 (Optional)
This is how you install the tension clips onto the Froli Sleep System
https://youtube.com/clip/Ugkx219r4E6jIQj9auT7G0_WizXa-QH_tFfo
How Does the Froli System Make Your RV Mattress More Comfortable?
Each spring in the Froli Sleep System adapts to your body shape and movements and makes it more comfortably supported.
And you can also create a "his and hers" side with different firmness settings. If one person likes it firmer and one likes a softer mattress you can do this.
Froli Sleep System FAQS
These are some of the most common questions I have been asked about the Froli Sleep System.
Where Do I Get the Froli Discount Code?
I paid for my Froli System and it wasn't until after using it (and I had ample time to experience how much better I slept plus the relief of no more mattress mold worries) that I reached out to Nickle Atlantic to see I could get a discount to share with you and they were generous to provide me with a 15% discount code!
I am proud to say Randi's Adventures was the very first to provide this discount code!
Here is my affiliate Froli System discount code: https://froli-systems.myshopify.com/?ref=randi and use Discount code: RANDI to SAVE 15%
Enjoy!
Feel free to share it and be a rock star on your favorite social media and with family and friends! The Froli Sleep System is an investment and well worth the price but who doesn't like to save money?
Where can you buy the Froli System?
Buy the Froli Sleep System here. Don't forget to use the discount code RANDI to save 15%.
How much does the Froli Sleep System cost?
I purchased the Froli Star System and paid about $400 for a queen-size bed. I like that they offer a 100% money-back guarantee – 30-day hassle-free returns.
What size RV bed does the Froli System fit?
The Froli Sleep System is modular so you place the base and springs under any size mattress including irregular-sized mattresses. And that applies to anyone with an angled or curved bed shape!
The Froli System is ideal for vans, travel trailers and motorhomes, and any type of RV or boat that wants to know their mattress will have underneath airflow and looking for a way to make their bed more comfortable without replacing the mattress.
Who Would Benefit from the Froli Sleep System?
Anyone who wants a good night slee because getting a good night sleep controls our energy and vitality.
Anyone looking for a mattress upgrade and doesn't want to replace their existing mattress or purchase a mattress topper to gain comfort and support.
Anyone who wants to eliminate mold and mildew issues from occuring under their mattress.
Is the Froli Sleep System a Quality Product?
The Froli Sleep System is made of a thermoplastic elastomer, which is a hi-tech material that has a memory effect. I love my Froli System!
When I originally installed it, I said I could just feel the quality and it has held up fantastically over the past 3 years. It has never moved around and has stayed in place. You know when you buy a product and it exceeds your expectations? The Froli System has far exceeded my quality expectations.