I love roughing it but I also like to discover fun RV glamping accessories and ideas to jazz things up with fun RV decor ideas and things that make my campsite festive.
What is the Definition of RV Glamping?
RV Glamping is a term used to describe the act of having all the luxury comforts of a home in an RV.
The idea behind it is to provide people with an opportunity to experience the outdoors without sacrificing comfort, luxury, or convenience.
Many RVs come equipped with the amenities most glampers desire such as a queen-size bed, a chef-style kitchen, and a full bathroom.
However today RV glamping is more than just having the luxurious comforts of home. People want things that add excitement and glamour to their experiences. They want to feel like they are on a resort-type vacation and they want to return home with a special feeling that they just made magical lifetime memories.
If you are looking for RV glamping ideas to take your next RV camping trip to the next level this is the best list of 14 fun accessories I found on Amazon and Etsy to make you the cool kid at the campground.
14 Glamping Accessories to Jazz Things Up
1. Colorful Wind Chime
When I saw this wind chime I thought what a great way to add some sparkle and pizzazz to your campsite. I think these LED lights will add a colorful ambiance for the ultimate glamping vibe.
Oh, and it is solar-powered, so there is no need for wiring or batteries. Hang it from your awning or a tree branch.
This is going to make you the COOL kid at the campground!
Get this wind chime on Amazon here: https://amzn.to/3CoUZJb
2. Trailer Trash Cans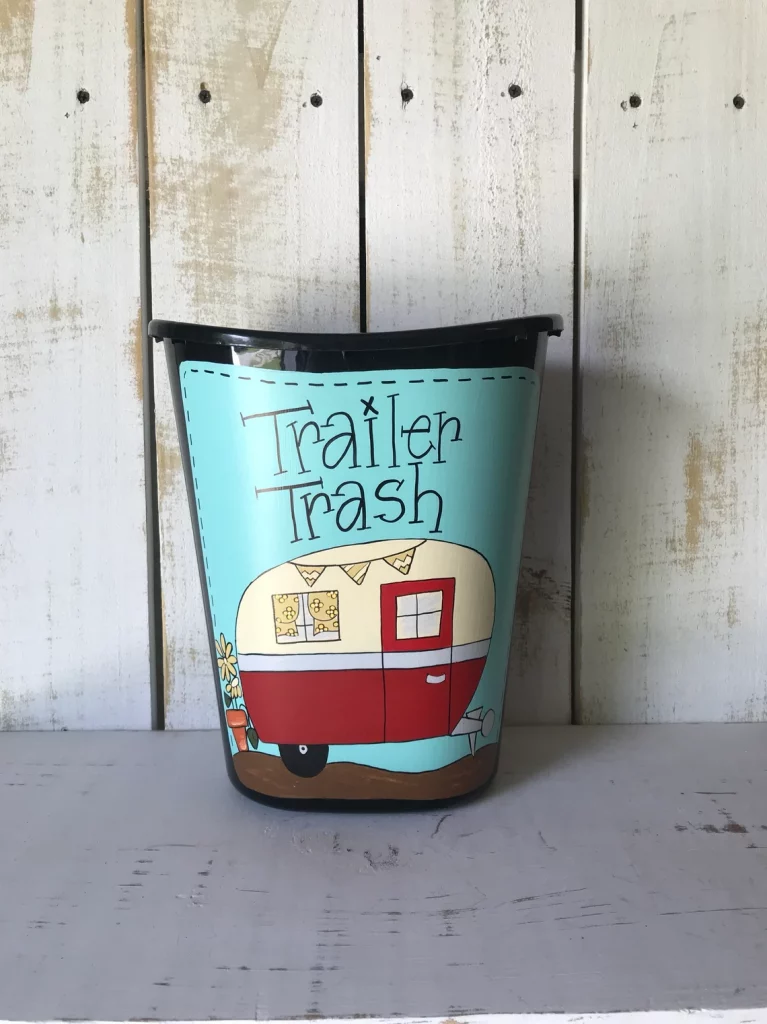 These hand-painted trash cans are perfect for an RV bathroom. They are small and they have the text "Trailer Trash" on them.
This fun glamping décor idea can be used as a trash can, an ice bucket or just to tote items in and out of your camper.
I love cute things that are also useful!
Get this RV trash can on Etsy here: https://www.etsy.com/listing/627738463/trailer-trash-can-small-trailer-trash
3. RV Travel Sticker Set and Map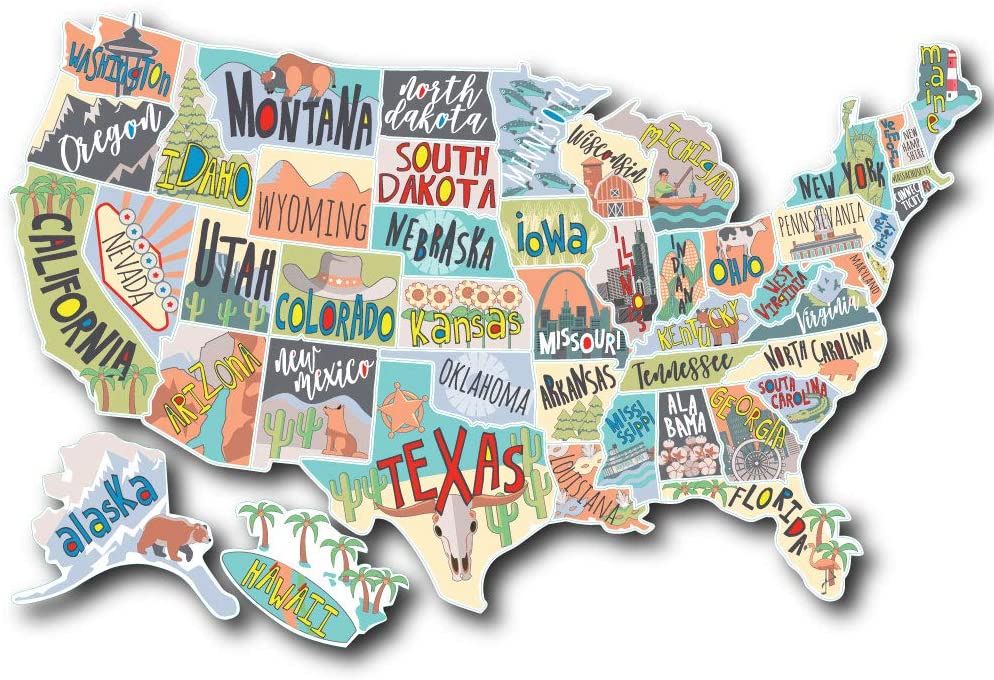 You can stick this travel map on your RV and you give yourself a pat on the back every time your adventures take you to a new state and you earn a new state sticker.
Go ahead, be a little bit of a showoff and let your fellow RVers know just how cool you are by all the states you've been to.
Get this RV state travel sticker map on Amazon here: https://amzn.to/361a0Vi
4. Mini Laser Lights
Glamping just got way more entertaining when you have this portable mini laser light show. It will instantly turn any campsite into a festive party.
These mini laser lights will definitely add a WOW factor to your campsite and have they've kept me entertained for hours!
Get this portable mini laser light on Amazon here: https://amzn.to/3sTzb5b
5. RV Key Hook Rack
These are cool 3D-printed RV-themed key racks that come in a variety of colors. You can choose a travel trailer, 5th Wheel, Class A, Class C, or Airstream design.
This is a clever glamping décor idea that will also save you from losing your keys.
People are certainly going to make a comment when they see this hanging in your RV. Once again… you're going to be the cool kid with pizzazz for fun decor!
Pick your favorite RV key rack out there on Etsy: https://www.etsy.com/listing/1024433541/rv-travel-trailer-keychain-hooks
6.      Froli Sleep System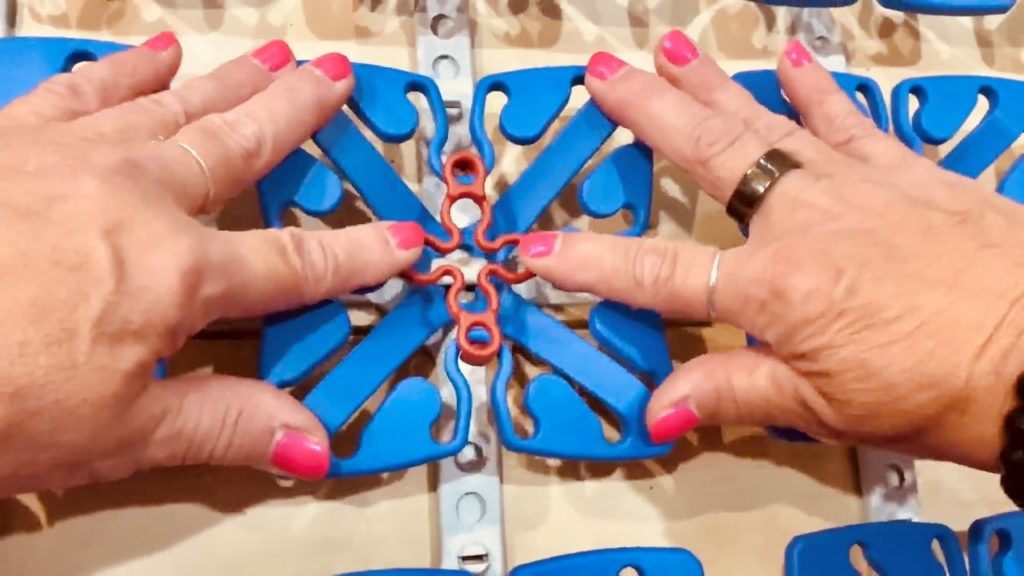 The Froli Sleep System is an RV bed game changer. It has modular springs that you place underneath your existing mattress and these springs add support that cushions your body.
Just because we are sleeping in an RV doesn't mean we need to give up some of the comforts of home!
I say the Froli System has converted my RV mattress into a 5 star like hotel bed. And as an affiliate, the company has provided me with a 15% discount code to share with you.
Get your Froli Sleep System here and save 15%: https://randisadventures.com/video/froli-sleep-system/
7.      Outdoor RV Mat
The best RV glamping décor begins with your outdoor RV mat.
They are a style statement that says something about you. So, when you have one with a snazzy flare, plus one that folds up, and comes with a storage bag you got yourself a glamping winner.
Get your fun outdoor RV mat on Amazon here: https://amzn.to/34oT3Un
8.      RV Mat Stakes Set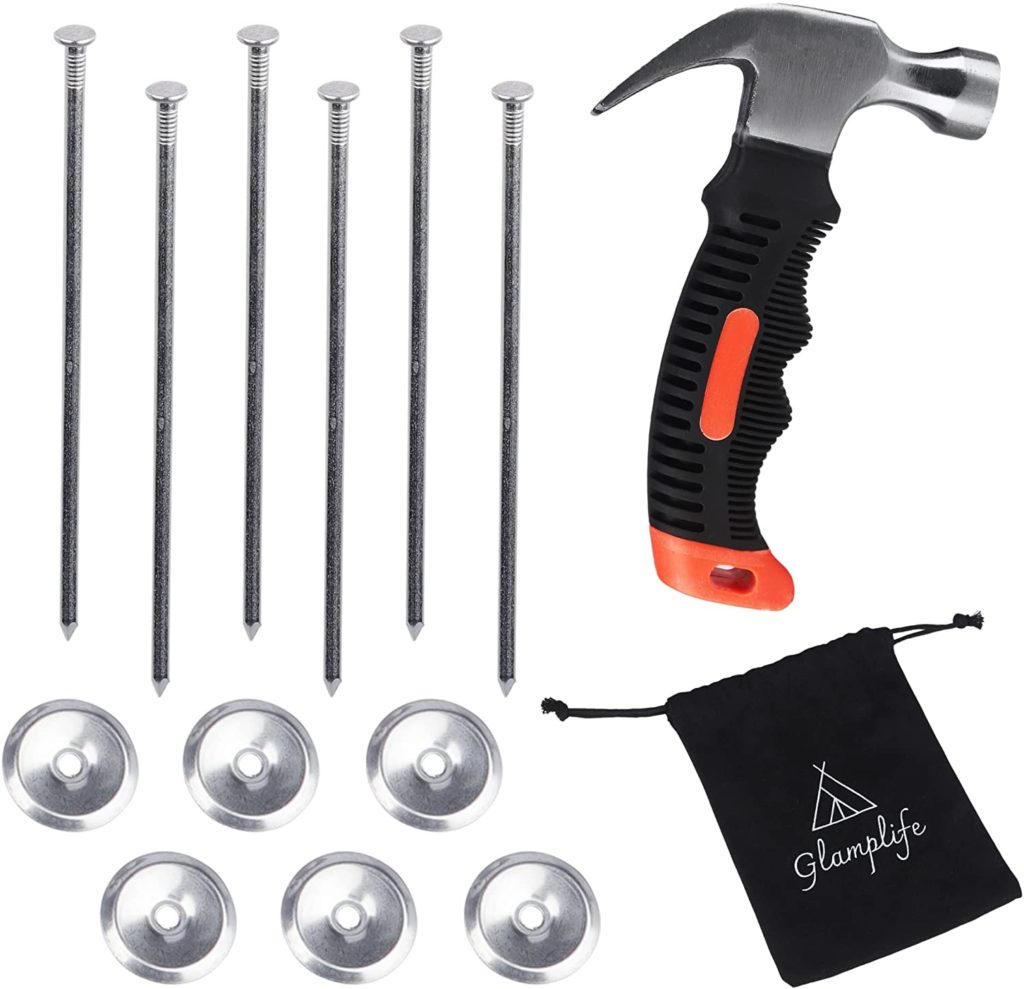 Now that we have fun new outdoor RV mats we need to keep them in place because winds can come out of nowhere.
The people that make the stylish RV mats also make these heavy-duty stakes that come with a hammer. Having an RV mat stake set that comes with a hammer is good because there will be times when you need the extra force to nail the stake into the ground.
This set also comes with a storage bag to keep you organized.
Glamping and staying organized… I love it!
Get your RV mat stake set on Amazon here: https://amzn.to/3vMBYir
9.      Loveseat Camping Chair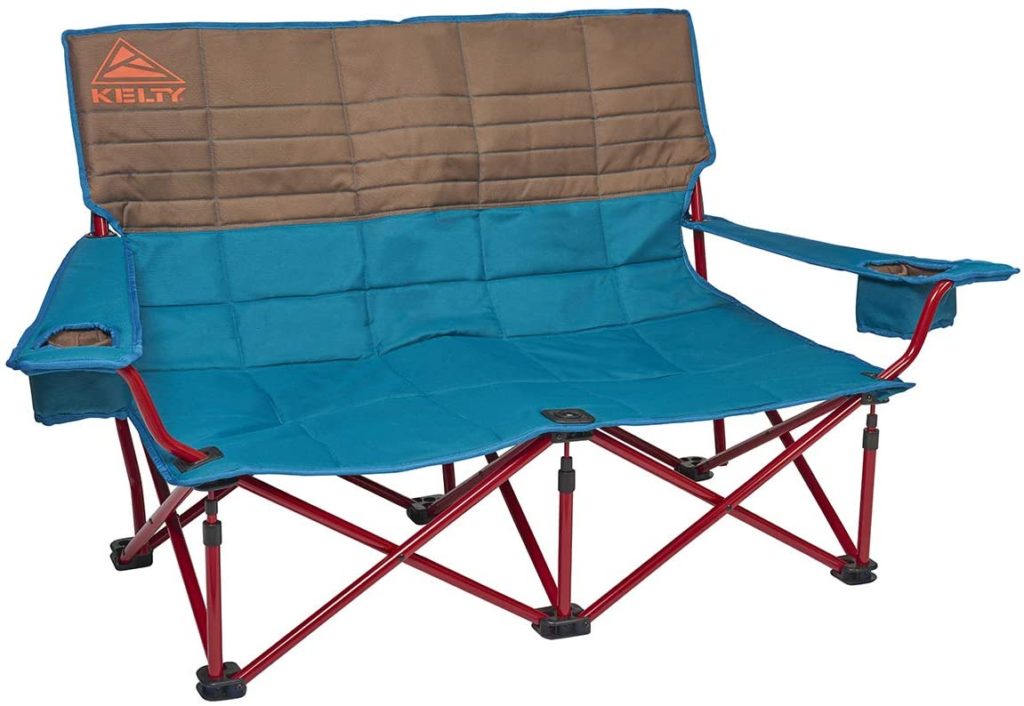 What does every Glamper need? A cuddle couch so you can snuggle up to your loved one.
This outdoor loveseat has a reclining design with room enough for two, plus the family dog! And it folds up for easy storage. This loveseat will make you the envy of the campfire ring.
It's fun to be a snuggling glamper!
Get your outdoor loveseat on Amazon here: https://amzn.to/3Mz2imh
10.   Mystical Fire Campfire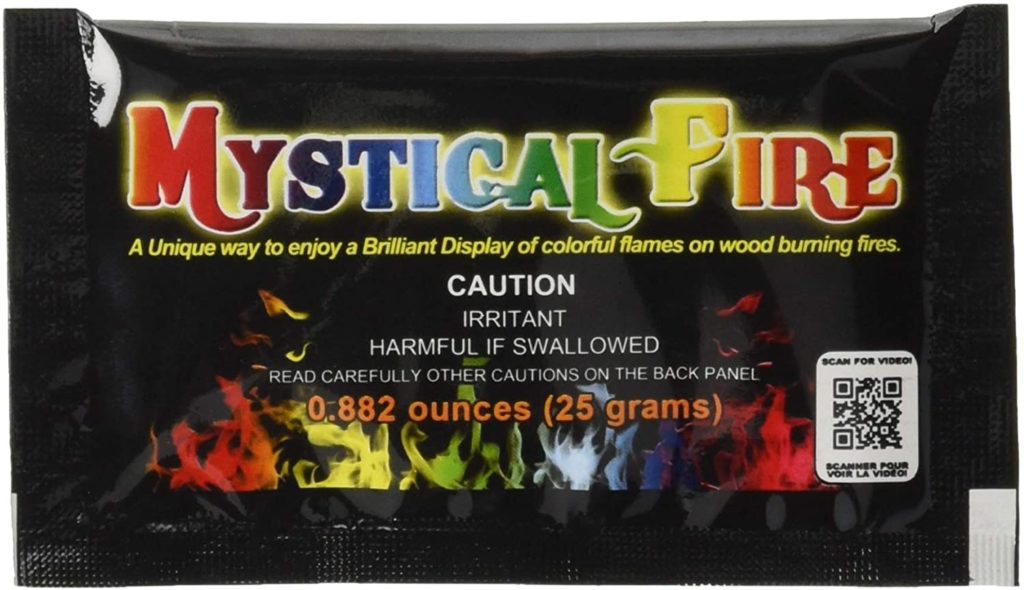 The Mystical color campfire livens your campfire with captivating rainbow colors. And the colorful Mystical Fire Flame does just that by adding zing to the flames that are really quite satisfying to look at.
Get your Mystical Fire Flame on Amazon here: https://amzn.to/3HP3a2p
11.   Queen of The Camper Wine Tumbler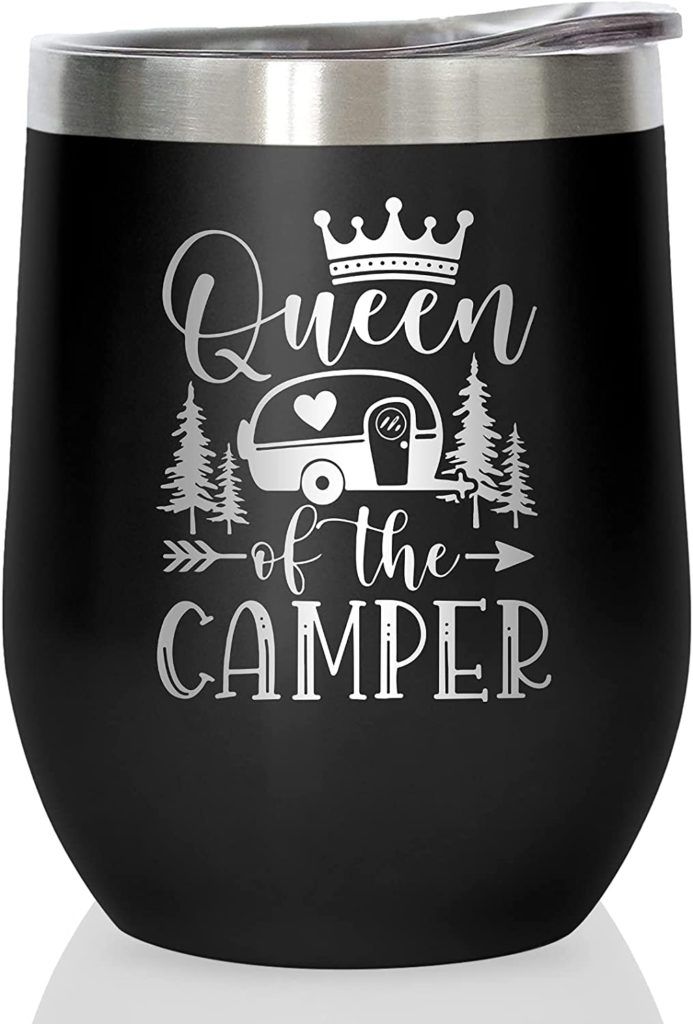 This glamping accessory is for wine loving gal glampers.
Because nothing screams Glamping louder than Queen of the Camper! Beyond letting everyone know you are a glamping queen there are more upsides to this tumbler also has a cover so you don't spill anything. Also, they are easy to clean because let's be real, camping can get dirty.
Get your Queen of the Camper tumbler on Amazon here: https://amzn.to/3KqgPPh
12.   King of the Camper Wine Tumbler
For you guys that want to get in on the glamping action because who needs to drink coffee out of a disposable paper cup when you can drink your hot and cold beverages out of stainless steel?
Get your King of the Camper tumbler on Amazon here: https://amzn.to/3HWPVgq
13.   Unbreakable RV Dishes
Just because you're RV camping doesn't mean you can't use fancy-dancy dishware.
These dishes have the word EXPLORE on them and this symbolizes a true glamper's spirit. Sure, they look great but they are also stackable, lightweight, and virtually unbreakable.
Get your unbreakable RV dishes on Amazon here: https://amzn.to/3MBhrmS
14.   Tea Lights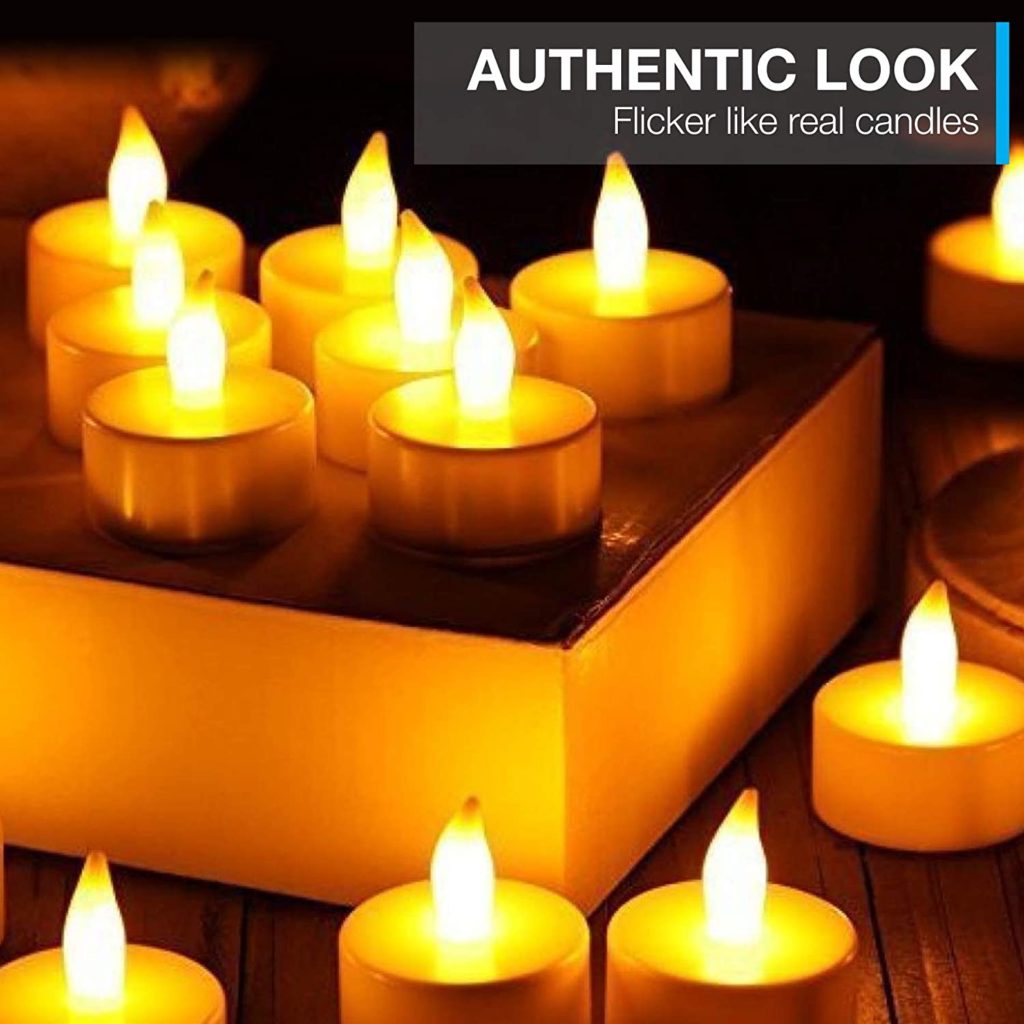 Do you want to add a little spice to your love life? Perhaps a candle-lit dinner will get you in the mood.
These are battery-powered tea lights that flicker giving them a romantic candlelight look. You can place them anywhere to set the proper mood.
Get your tea lights on Amazon here: https://amzn.to/3tQrY5q