In this unboxing video, I unveiled six of Oprah's favorite things that I include in my camping edition list of cool camping gadgets.  If Oprah endorses them, you know they're bound to be top-notch. These gadgets promise to elevate your camping experience, making it more enjoyable, convenient, and memorable.
Additionally, they make for fantastic gifts that are sure to bring a smile to any camping enthusiast's face. Let's dive into the details of each recommended product.
1. Electric Lighter: A Flameless Wonder
The first item on Oprah's list is an electric lighter, a game-changer for campfire enthusiasts. Unlike traditional butane lighters, this rechargeable wonder is flameless and windproof. With a simple button press and a quick slide, you can light up just about anything.
Bid farewell to disposable lighters – this one is built to last.
2. Beanie Hat with Built-in LED Light: Illuminate the Night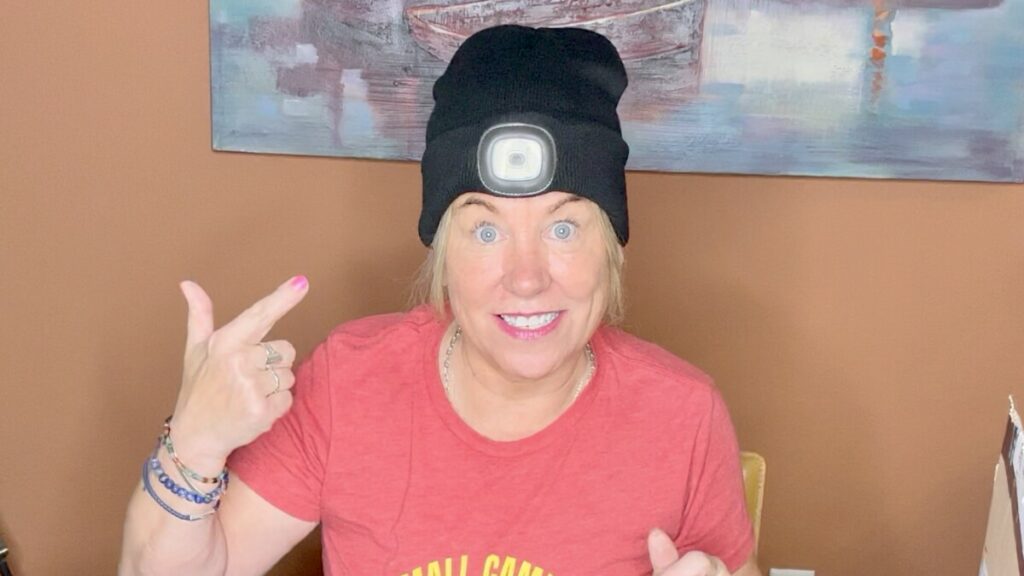 Next up, we have a beanie hat with a built-in LED light, a true hands-free solution for nighttime activities.
Whether you're walking your dog or sharing stories around the campfire, this hat ensures you have ample illumination. The darkness won't stand a chance. Plus, it's incredibly comfortable – a win-win for those chilly nights.
3. Triple-Insulated Coffee Mug: Sip in Style
For coffee lovers, Oprah's 2021 favorite is a must-have. This triple-insulated stainless steel coffee mug keeps your beverages piping hot or refreshingly cold.
What sets it apart? The cap fits snugly, and the handle is generously sized, making it a pleasure to hold. Available in a variety of colors, this mug is a true gem for your morning pick-me-up.
4. Stemless Wine Tumbler: Cool Sips on Warm Days
Not a coffee drinker? No problem.
Oprah's 2017 favorite comes to the rescue with a stemless wine tumbler. Crafted by the same company as the coffee mug, this tumbler is designed to keep your wine perfectly chilled, even on scorching summer days.
With a delightful array of colors, it's a fun and functional addition to your camping gear.
5. Kitchen Essentials Collection: Spicing Up Your Meals
Enhance the flavor of your camping cuisine with Oprah's selection of spices and seasonings. Even if you're not a gourmet chef, these compact essentials are perfect for campers. Garlic powder and onion powder take center stage, offering a delicious boost to your campfire-cooked delights.
Elevate your meals and savor every bite.
6. Reusable Bags: The Ultimate Hauling Solution
Meet the bag queen's choice!  These reusable bags are a game-changer for campers who frequently shuttle supplies between home and their camper.
The double handles allow for easy shoulder carrying, freeing up your hands for other tasks. When not in use, they fold up compactly, taking up minimal space – a practical choice for any camper.
Introducing Wild Story Tees: Wear Your Adventures!
Not part of Oprah's Favorite Things list but I have my fingers crossed they could be someday is  "Wild Story Tees," a brand-new line of camping-themed t-shirts I am thrilled to announce. Each shirt tells a unique camping story, capturing the essence of your outdoor adventures.
With a range of designs, including "Small Camper Big Memories" and "Camp Queen," these tees are bound to become campfire conversation starters.
Why You Will Love These Cool Camping Gadgets
These cool camping gadgets on Amazon offer a delightful blend of practicality, innovation, and style. From flameless lighters to triple-insulated mugs and the introduction of Wild Story Tees, each item promises to enhance your camping experience.
Whether you're an avid camper or searching for the perfect gift, these recommendations are sure to make a Bigfoot-sized impression. Happy camping!