I love RV camping and after 4 years of spending a lot of time in my travel trailer, I have discovered products that have made my camping experience more enjoyable.
Are you ready to take your RV camping to new levels? Then get ready to experience satisfaction like never before because these are nine of the best game-changing RV accessories that will elevate your RV camping experience.
The 9 Best RV Camping Accessories
1. Froli Sleep System
This first RV accessory is a clever way to get a good night's sleep without having to replace your uncomfortable RV mattress. It's so important when we're camping that we get a good night's sleep just like we do at home. We want to be ready for all of our adventures.
Before I installed the Froli system my RV mattress sat on a hardwood surface. There weren't any springs for support and it wasn't very comfortable to sleep on. So, needless to say, I didn't always sleep that well.
The Froli system solved this problem by lifting my RV mattress off the hard surface which made it so much more comfortable to sleep on. But the biggest relief came from the spring elements because they added support and this has made a difference in comfort.
The original reason I bought the Froli Bed System was that I was concerned about mold growing under my RV mattress. And once again because my RV mattress sat directly on a hardwood surface there just wasn't any air ventilation that could circulate.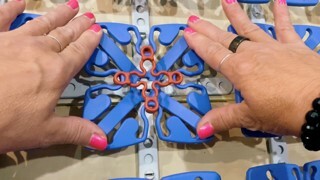 Mold grows in damp dark places. Places where there is little or no air ventilation. And mold is nothing to mess with because it can cause havoc on our health. The Froli System also solved this problem because it lifted my mattress about one and three-quarter inches up allowing airflow space between my mattress and the hardwood surface.
I did a previous video that shows you step-by-step how to easy it is to install the Froli System and you can watch that video here.
I paid for my Froli Sleep System and it wasn't until after I had a chance to experience it and fell in love with it that I reached out to the company and asked if I could get a discount code so I could pass savings to you. Well, they were generous enough to provide me with a 15 discount code that you can get here.
✔️ Buy the Froli Sleep System
Go here to get your special Froli 15% savings: https://froli-systems.myshopify.com/?ref=randi (Be sure to use the discount Randi at checkout!)
2. Keyless RV Door Lock
This next RV accessory is going to help you feel safe because it helps stop Intruders from getting inside your RV.
From the moment I get to my campsite I'm constantly coming and going. It was such a hassle to have to look for my keys to lock my door and haul this key with me every time I went someplace. So I installed a keyless RV door lock.
It's been so convenient. Instead of using a key to lock my door I just press the lock button on the keypad and the door locks. And then to unlock the door I just enter my personal code and the door unlocks.
I wouldn't want to go back to using a key again but even more important is a bigger problem if you're still using the key that your RV came with. That's because these keys are Universal Keys. These keys are very popular and most RVs use them for locking doors and storage compartments.
This key is known as the ch751 key and if your RV key has ch751 stamped on it like so many other people have then it's the same key. Yes, this means that anyone else that has this key can use it to unlock your RV.
I've been using my keyless RV door lock for over three years and I've been so happy with this keyless locking system.
✔️ Buy this RV Keyless Door Lock on Amazon here: https://amzn.to/3zm1FYj
3. Quick Zip Sheets
This next RV accessory is going to save you time and frustration every time you make your RV bed.
I dreaded having to put the bottom fitted sheet on my RV mattress every time I wash my bedding because it was so frustrating to get the fitted sheet unto the mattress when it us up against a wall. Then I discovered the Quick Zip Sheets.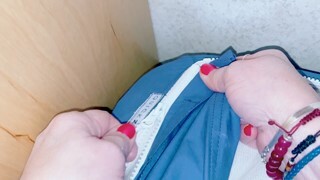 The magic behind the Quick Zip Sheets is the zipper. This zipper goes around the edge of the bottom fitted sheet and the bottom part of the fitted sheet stays in place. When I'm ready to put my sheet back on I use the zipper instead of lifting my mattress up to secure the fitted sheet into place.
This zippered bottom sheet has saved me so much time and it's helped me keep my sanity every time I have to make my RV bed.
Does making your RV bed drive you crazy too? Then you're gonna love my special 15% off discount code!
Buy the QuickZip Sheets:
✔️ Get your 15% special saving here: https://quickzip.com/products/new-percale-starter-pack?aff=31&utm_source=affiliate (Be sure to use this discount code randi15 )
✔️ Or you can buy it at regular price on Amazon: https://amzn.to/3WgvzXy
4. Quick Clam Escape
This next RV accessory is a great hanging-out outdoors solution so you don't find yourself trapped inside your RV when it's raining out or pesky mosquitoes are biting you.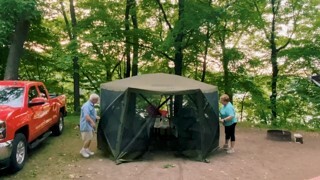 I don't own the Quick Clam Escape but my good friends Mary and Mark do and they showed me theirs. I was really impressed when I watched them put it up in just 2 minutes.
Mary told me, the best thing she liked about the Quick Clam Escape is the screening. She said. "It has a thick mesh material that prevents No seems and mosquitoes from getting through so when you are inside the Clam tent you are relatively bug-free."
Another feature they liked about this model is that it comes with sides you can place over the screens that are held on by velcro. It also comes with steaks so it won't blow away in the wind.
I was amazed at how much hanging-out room there was in this screened-in tent. There was enough room for a full picnic table with room to spare.
In Mary's words, "The reason we bought it is that my husband and I are both retired we're in our mid-60s and frankly we needed something that was going to be light that was easy to handle and that would go up quickly. We didn't want steaks and poles and tarps and all of the stuff that goes with a traditional tent. This is an absolute dream come true."
✔️ Buy the Quick Clam Escape on Amazon here: https://amzn.to/3fbnumF
5. Napolean O'Grill
This next RV accessory is going to satisfy your outdoor cooking needs without the greasy messes.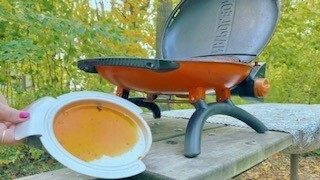 When I first started camping I used a griddle grill. These griddles have flat surfaces where the grease from food collects. After struggling to keep it clean is when I bought the Napolean O'Grill.
The Napolean O'Grill has a pan that sits underneath the grill that the grease from food drips down unto.  pan. It's much easier cleaning this pan out than cleaning a griddle-type style grill with all the grease on the griddle.
Also, the grill grate is removable and this makes it easy to scrape down any particles of food that have dropped into the grill onto the pan. Another feature I really love is that it's got a cast iron grill to create those beautiful sear marks especially when I'm cooking a steak.
Another feature I really love about my Napolean O'Grill is its foldable legs. This means less space is needed for storage. Another benefit to having these legs is that I can always just set it up on a picnic table and I don't have to carry along another table to set it up on.
I've grilled some delicious food on this grill and I absolutely love it. But I have to tell you there was one huge mistake that I made every time I was using my O'Grill and you could be too without knowing it. But the next RV accessories solved this problem.
✔️ Buy the Napolean O'Grill on Amazon here: https://amzn.to/3U72s7n
6. Ignik Gas Growler
I had absolutely no clue how much money I was wasting each and every time I bought a disposable green one-pound propane bottle to light my grill.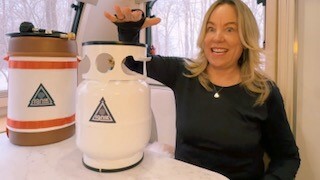 The Ignik Gas Growler is a portable refillable five-pound propane cylinder. But, here is where it gets financially interesting. When you refill the five-pound propane cylinder it will cost you the same as one of the one-pound green propane bottles. So you get five times the amount of propane for the same price.
But unfortunately, it gets worse. Green one-pound propane bottles are a single-use product and according to Ignik 48 million of these green propane bottles end up in landfills each and every year.
The Ignik Gas Growler also comes with a hose that attaches to the back of the propane tank and the other end of the hose fits on the grills, lanterns, heaters, or anything else you were using green one-pound propane bottles for.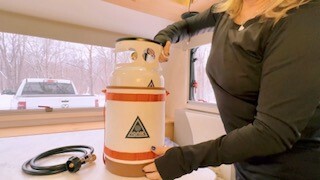 There is an optional Ignik Gas Growler carry case that I think is very convenient for carrying and storing the propane tank. The five-pound cylinder sits inside the case but the case also holds the hose so the propane tank and the hose and one very easy and convenient storage case.
✔️ Buy the Ignik Gas Growler on Amazon here: https://amzn.to/3H3QuYS
7. Blender X
If the idea of enjoying a frozen margarita on one of those hot summer camping nights makes your mouth water then this next RV accessory is going to be so satisfying.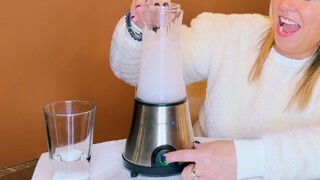 The portable Blender X is a game changer because it allows RV campers' to bring the power of their home blenders with them in a small space-saving size. Not only is this blender portable but it's cordless and it's high-powered so now we're going to be able to enjoy margaritas and smoothies when we're camping.
I was very impressed with how well the Blender X blended up ice.
✔️ Buy the Blender X on Amazon here: https://amzn.to/3XOXTjK
8. Carmtek Curved Levelers
This next RV accessory is going to help you level your RV like a pro.
I've known about curved levelers for a while but I thought they were kind of spendy and I wasn't convinced that they would actually make leveling my RV that much easier. But I was getting really frustrated using wood blocks because I felt like I was putting together a jigsaw puzzle every time I used them to level my travel trailer.
So I finally decided to give curved levelers a try. But because I didn't know a lot about them I did some research and read a lot of reviews on Amazon. And that's how I decided on the Carmtek Curved Levelers.
The first thing I noticed about these curved levelers is that they feel really heavy-duty. These levelers will work for a travel trailer or an RV up to 35,000 pounds.
The other thing that really impressed me is their lifetime warranty. They say that if anything happens down the line you're guaranteed a free replacement or a complete refund. Now that's a really good warranty.
I'm no longer skeptical and I love how easy leveling my travel trailer is with the Carmtek Curved Levelers.
✔️ Buy the Carmtek Curved Levelers on Amazon here: https://amzn.to/3TPE0aI
9. Jackery Portable Power Station
This next RV accessory is going to expand your camping options by keeping you powered up when you don't have electric hookups.
The Jackery 1000 has allowed me to adventure off-grid and see some of the most amazing places because I don't have to rely on finding a camping spot with electric hookups.
What is great about this portable power station is that it has several USB ports including a USB C Port. I use these ports for charging my iPhone, iPad,  and other electronics.
It also has three pure sine wave AC outlets and one DC car port. So you could be charging eight different things at one time.
I bought this 1000-watt charger over three years ago and I use it a lot.
The Jackery 1000 Portable Power Station is a perfect size because it's not too big and bulky to carry around but it's got enough juice and power really just to keep me charged up when RV camping without electricity.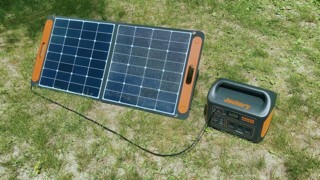 Jackery also has a solar panel that you can buy separately and I've got that as well. And this solar panel has come in really handy for recharging the Jackery on longer camping trips.
✔️ Jackery 1000
Buy the Jackery 1000 on Amazon here: https://amzn.to/3Gcjht0
✔️ Jackery Solar Panel
Buy the Jackery Solar Panel on Amazon here: https://amzn.to/3WazmFY
===============================
Randi's Adventures, All Rights Reserved
DISCLAIMER: My videos are for entertainment purposes only. I am not a travel or RV expert. It is important to do your own research to find what works best for you. Some of my links are affiliate links. I make a small commission if you use these links. As an Amazon Associate, I earn from qualifying purchases.