These are unbelievably easy DIY hacks that will transform your small camper trailer into a mansion! OK… that might be an exaggeration but these simple camper mods and upgrades will certainly make it feel much larger!
7 Hacks to Make Any Small Camper Feel Bigger
Hack #1 – Mirrors!
Using mirrors will instantly give your tiny space the illusion of more space.
I have a full-length mirror in my camper bathroom and this mirror makes this tiny spaces look and feel more spacious. My bathroom would definitely feel much smaller and cramped if it wasn't here.
Important Tips!
You don't want to use heavy mirrors like the ones you use at home rather, you want mirrors that are unbreakable and shatterproof.
The best type of mirror for an RV is an acrylic mirror because they are lightweight and will not break.
Wherever you don't have natural light from a window is a great place to add a mirror or another place is on the inside of a cabinet door.
Is there a spot in your small camper that would look bigger if there was a mirror?
If your camper doesn't have a lot of windows this next hack will really help make your tiny space feel bigger.
Hack #2 – Let There Be Light!
In my opinion, windows are the number one way to instantly transform any small camper into a space that feels so much bigger because they let natural light come in and create an illusion of more space.
However, windows are a double dose of good because there is something special about being able to view the outside scenery when you are sitting inside your camper.
If you are thinking about buying a small camper, finding one that has several big windows was just one of the key factor considerations I talked about in my previous video about how to not buy the wrong small camper. You can watch this video on YouTube here: https://youtu.be/plGJdG0d95k.
But what if you don't have a lot of windows or there's an area in your small camper or travel trailer that doesn't get natural light so this space feels dark and small?
That's where wall lights come in.
These types of lights can be placed almost anywhere and they will help brighten up your dark spaces and make your camper feel larger and more open.
Drilling a hole in the ceiling or a wall would make me very nervous because what if it leaked? And I'd look for one that was rechargeable so you don't have to worry about replacing batteries.
So, let there be light!
Hack #3 – Ditch the Clutter and Stay Organized
It's easy to let things pile, but these piles of clutter will make your camper feel smaller.
I bought throw pillows to make the space feel homier but they took up valuable space.
I bought them for my dinette but when I wanted to sit at the table I would throw the pillows on the bed. Then when I went to bed I throw them on the kitchen counter.
When it comes to decor and accessories in a small camper, less is definitely more. It's might be tempting to add extra things like the throw pillows but this just adds clutter. So try to keep this type of decorating to a minimum.
Also, the more we pack into our tiny spaces the more difficult it is to keep them clutter-free.
Things I Do to Keep My Small Camper Tidy and Organized
After I use something I try to put it back away where it belongs because when left out it only takes a few of these things to make your tiny space cluttered.
Have a place for everything. This also makes it easy to find things.
Get rid of things you haven't used in the past year. Springtime is a great time to go through your cabinets and drawers and take out what you don't use.
Use packing cubes to keep your clothes organized. The Pack was a recent new discovery for me and I use it to pack my clothes. It's like having portable drawers and really helps me keep my clothes organized.
Hack #4 – Think Vertically
If you don't have enough storage space to keep things tidy and organized use your wall space!
I have a wall-hanging toiletry and shower organizer in my camper bathroom. Without this, I wouldn't have any bathroom storage space.
Another way to utilize wall space for storage is by using command hooks. These hooks are an RVers best friend because they use adhesive so no drilling is required but the adhesive can be removed when you want to remove the hook.
There are so many wall-mounted storage solutions to keep your belongings organized and out of the way like hanging baskets or shelves.
Important Tip!
Don't overdo it with wall-mounted storage and use wall space just when you need the extra storage space. Too much stuff on your walls will make it look cluttered.
Hack #5 – Maximize Existing Storage Space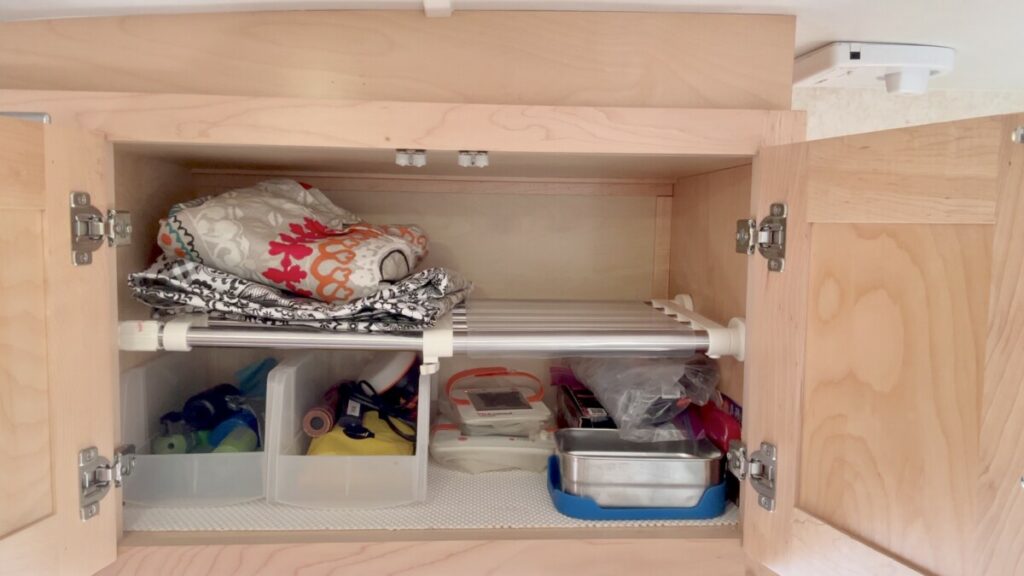 I recently added an expandable shelf to a cabinet in my camper and this doubled the storage space.  This was an easy and cheap way to add extra space but it also helped me organize the things in the cabinet so I am able to see everything that I keep in there.
Hack #6 – Brighten Things Up!
This next hack will make your tiny space appear really spacious if your camper trailer has dark-colored walls.
That's because dark-colored walls close spaces but white is known as the champion for making any small spaces feel bigger. White walls are like a magic wand for small spaces!
So, if your walls are dark there are a couple of things you can do.
The first of course is painting your walls. But maybe an easier solution could be to use a peel-n-stick on wallpaper. I used peel-n-stick backsplash tiles for my kitchen area and they were pretty easy to install and these tiles have held on for a couple of years now.
Changing up the color of your walls might be a fun weekend project and could totally transform your space.
Hack #7 – Create a Sheltered Outdoor Living Space
Having an outdoor shelter expands your "camping" space when it's raining, or mosquitoes are attacking you.
That's where a screened-in tent comes in and this can be a game-changer!
My friends Mary and Mark have the Quick Clam Escape and they absolutely love it. It's easy to set up and take down when it's time to hit the road.
✅ Shop these Amazon (affiliate links) here: https://amzn.to/3M4wOGX
✅ Buy the shower organizer here: https://teardropshop.com/products/36-x-12-shower-organizer?variant=41513019605191&aff=https://www.teardropshop.com/?rfsn=3451093.8cddde
________________________
Randi's Adventures, All Rights Reserved
DISCLAIMER: My videos are for entertainment purposes only. I am not a travel or RV expert. It is important to do your own research to find what works best for you. Some of my links are affiliate links. I make a small commission if you use these links. As an Amazon Associate, I earn from qualifying purchases.