As much as you love your RV and the freedom it brings, organizing your cabinets and drawers can be a challenge. Throwing everything into cabinets and drawers can quickly lead to a mess and make it difficult to find what you need. Fortunately, with a few RV storage ideas, you can turn that chaos into order.
In this article, I share my favorite RV storage ideas, including how to use plastic bins and expandable shelves to gain extra storage space.  I also provide step-by-step instructions for how to use these tools to organize your RV cabinets.
Using Plastic Bins for RV Storage
When RVing, it's easy to collect various items you need for your trips. But finding a place to put everything can be challenging. This is where plastic bins come in handy. They are perfect for storing various items, and you can quickly grab them when you need them.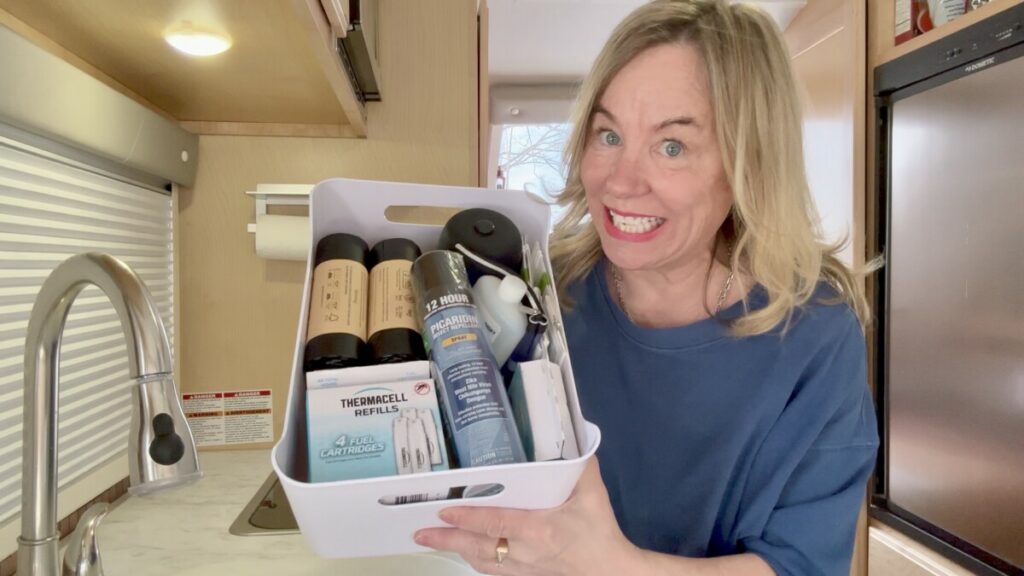 Step 1: Empty Your Cabinets and Drawers
Before you start, empty everything from your cabinets and drawers. This way, you can see what you have and decide what you want to keep, donate or discard.
Step 2: Sort Your Items
Sort your items into categories, such as kitchenware, tools, outdoor gear, and so on. This will make it easier for you to find and retrieve items when you need them.
Step 3: Clean Your Plastic Bins
It's important to clean your plastic bins before you start putting your items in them. Use a mixture of vinegar and water to clean the bins thoroughly.
Step 4: Label Your Bins
Label your bins so you can quickly find what you need. This step is especially important if you have several similar bins.
Step 5: Put Your Items in the Bins
Put your sorted items into the labeled bins. Be sure to put similar items together, such as kitchenware or tools.
✅ Buy my favorite RV storage bins on Amazon (affiliate link)
✔️ Storage Bins: https://amzn.to/3Kp4GNo
✔️ Plastic Bins: https://amzn.to/3zp5ziz
Using Expandable Shelves for RV Storage
Expandable shelves are another excellent RV storage idea. They are perfect for adding extra storage space and making it easier to see what you have in your cabinets.
Step 1: Measure Your Cabinet
Measure the width of your cabinet to make sure the expandable shelf will fit.
Step 2: Adjust the Expandable Shelf
Adjust the expandable shelf to the desired width, then tighten the screws to hold it in place.
Step 3: Insert the Expandable Shelf
Insert the expandable shelf into the cabinet and use the knobs to adjust it until it's snug.
Step 4: Add Your Bins
Add your labeled bins to the expandable shelf. Be sure to put the bins with the items you use most often in the front, where they're easy to access.
With these RV storage ideas, you can say goodbye to the clutter and chaos in your RV cabinets and drawers. Using plastic bins and expandable shelves can transform your space and make it easier to find what you need. Remember to take the time to sort, clean, and label your items, and you'll be well on your way to an organized and stress-free RV trip.
✅ Buy my favorite expandable shelf on Amazon (affiliate link)
✔️ Expandable Shelf: https://amzn.to/3zqm269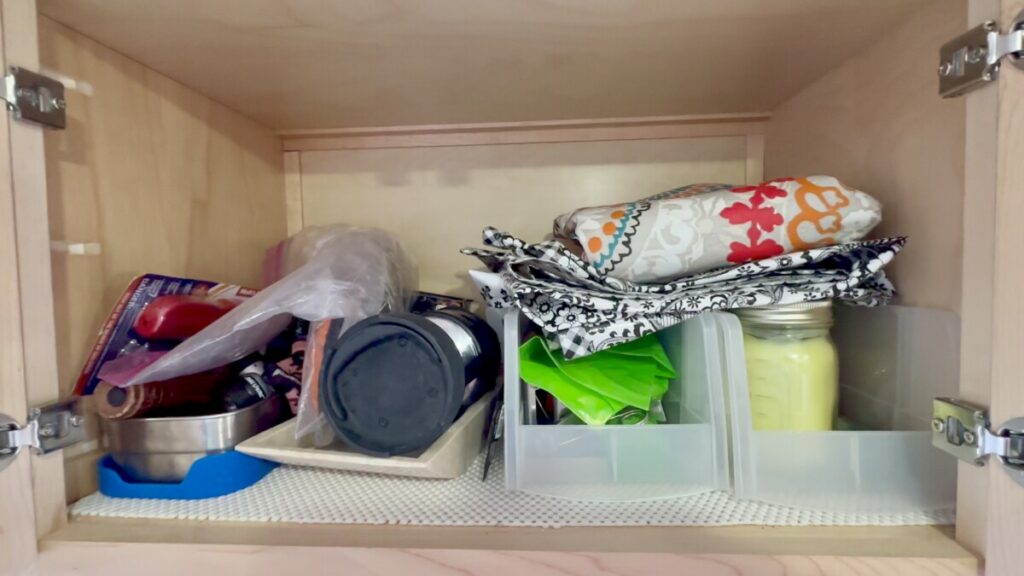 ✅ Watch this video next for more ideas, tips, and tricks to make your small campers and travel trailers feel BIGGER: https://youtu.be/i_a1nGA14as
________________________
Randi's Adventures, All Rights Reserved
DISCLAIMER: My videos are for entertainment purposes only. I am not a travel or RV expert. It is important to do your own research to find what works best for you. Some of my links are affiliate links. I make a small commission if you use these links. As an Amazon Associate, I earn from qualifying purchases.